Locally Run Marathon Becomes Globally Watched Experience
October 07, 2020 Linguistics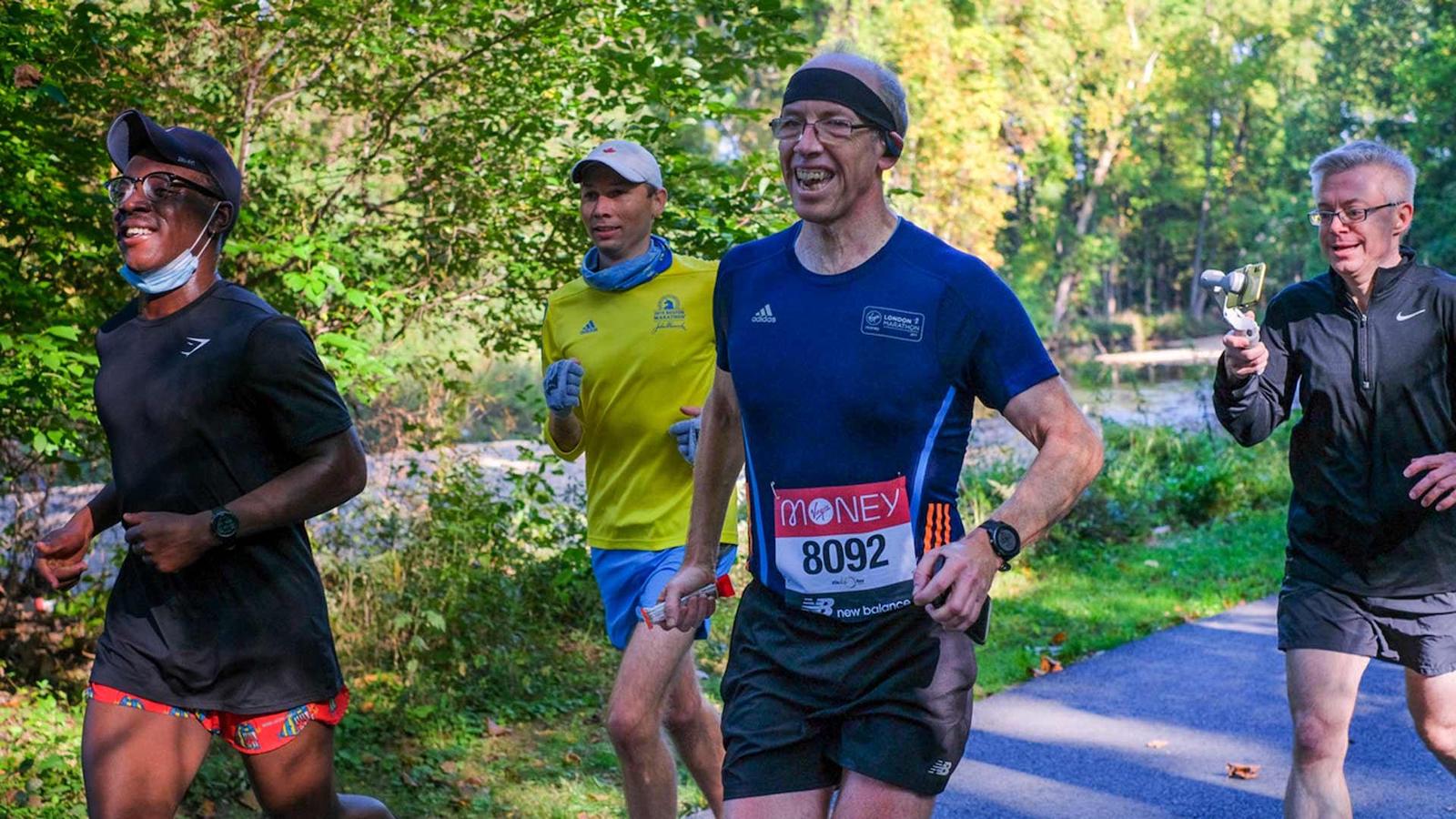 Professor's virtual run brings together community for BBC appearance.
By Colin Phillips | Maryland Today
Colin Phillips, a professor of linguistics, director of the Maryland Language Science Center and affiliate of the Program in Neuroscience and Cognitive Science, participated Sunday in the virtual London Marathon. While he registered almost on a whim, it soon turned into a global project: The BBC selected him to be broadcast live on the network's "digital wall" of runners worldwide. (Watch some of the BBC coverage.) Here's his account of the event:
I signed up for the virtual London Marathon a little over a month ago. That wasn't particularly sensible. A friend had inspired my wife, Andrea Zukowski, a research scientist in Linguistics, to sign up. Andrea had been mostly sedentary until she started running in 2014, shortly before what I had thought was my last-ever marathon, in London. Andrea has since morphed into a local evangelist and community honoree for getting residents active and in shape but had sworn to *never* run a marathon. Her reversal was enough of a big deal that I couldn't miss out. Also, my family has a history with the London Marathon: My parents took me to watch the very first one as a kid in 1981, and I helped my dad get in shape to do it in '82 and '83. So I signed myself up, and I needed to "cram for the test."
I learned only on Thursday that the BBC had selected me for its "digital wall" of virtual runners, from among the 45,000 who would be taking part around the world, including about 2,500 in the U.S. I immediately began seeking advice on how on earth I could live-stream on the move. After exploring a few options, I concluded that a promising solution would be a "gimbal"—basically a stabilizing selfie stick. But I would need somebody who could run with me while filming. (A bike would likely be too dangerous on twisting trails.) As it happens, I had recently written a forthcoming story for the new local newspaper, College Park Here and Now, about a UMD student who helped a faculty member run a virtual marathon. So I put out an appeal to my network of local runners, and I rush-ordered some equipment.
To my surprise, two people volunteered right away, and two more showed up to help out unannounced: Babadamilola "Dami" Alao, a College of Education graduate assistant and former college track-and-field athlete; Brian Murphy, a local running pied piper; Trace Huard, a UMD astronomy faculty member; and Michael Rohlf, a local resident and Catholic University philosophy professor.
I was already eight miles into my marathon when I arrived at Acredale Park, just north of the UMD campus, to start our live broadcast slot at 9 a.m. We expected to be broadcasting for 30 minutes, but the BBC kept us in the feed for about 10 miles, much more than my crew had signed up for. They took turns carrying the camera.
As we ran back and forth along the Paint Branch Trail, we had so much support from people, including College Park Mayor Patrick Wojahn—another person who we have helped to turn into a regular runner. In the final miles, after the crew peeled off (and the phone battery died), Pratyush Tiwary, the assistant professor of chemistry whose virtual marathon I had written about, was running up and down the trail to cheer me on and return the favor.
Among the many chalk messages of support on the trail, my favorites were left by the 4- and 6-year old daughters of Erin Schneider, an American Sign Language interpreter who I had met when I had deaf students taking my graduate classes, and she was assigned the task of interpreting them. There's a whole other story about how the community supported Erin's 4-year old daughter this spring when she did her first 5K. Now they were repaying the favor.
I have run marathons in big cities with huge crowds and iconic landmarks (Boston, London, Washington, D.C.), but this low-cost, last-minute pandemic version may have been the best of all. The combination of spectacular fall weather, a beautiful local trail (which I ran many, many times on Sunday) and a fantastic community is one of those things that money can't buy.
I finished the 26.2 miles in 3 hours, 21 minutes. That's about as good as I could have expected from the crash course, but of little interest to any but myself and running nerds.
Andrea and I have been bringing people together in College Park through walking and running for the past four years. The need for this has been even more acute during the pandemic, when our usual circles are even smaller than before. We have been amazed by the response to our efforts to keep people connected even while normal activities are all shut down. This weekend felt like a confirmation that it has been making a difference.
Photo by Andrea Zukowski.