Successful language processing requires speaker and hearer to dynamically create richly structured representations within a few hundred milliseconds of encountering each new word.
Our group asks how this feat is achieved, whether it is achieved in the same fashion across languages with varying word order and morphological markers, what are the possible neural encoding mechanisms for richly structured information and how the dynamics of language processing differ in adult native speakers, child and adult language learners, or in atypical learners.

Some distinctive features of the Maryland group include its expertise in cross-language research (e.g., recent studies on Japanese, Hindi, Mandarin, Portuguese, Basque, Russian, American Sign Language and Spanish); its use of diverse tools to investigate language-related processes (reading time, eye-movement measures, EEG and MEG measures of millisecond-grain brain activity and fMRI measures of brain localization); and its work involving neuro-computational modeling of language processing and studies of developmental and atypical populations. The rich network of connections between investigators make it feasible to try to seamlessly align insights from formal grammars with findings from psycho/neurolinguistics and computational neuroscience, often in ways that we could not have imagined a few years ago.

Research in psycholinguistics at Maryland is not pursued as a separate enterprise, but rather is closely integrated into all research areas of the department and the broader language science community. Weekly research group meetings primarily feature student presentations of in-progress research and typically attract 20-30 people.
Using surprisal and fMRI to map the neural bases of broad and local contextual prediction during natural language comprehension
Modeling the influence of local and topical context on processing via an analysis of fMRI time courses during naturalistic listening.
Linguistics
Context guides comprehenders' expectations during language processing, and information theoretic surprisal is commonly used as an index of cognitive processing effort. However, prior work using surprisal has considered only within-sentence context, using n-grams, neural language models, or syntactic structure as conditioning context. In this paper, we extend the surprisal approach to use broader topical context, investigating the influence of local and topical context on processing via an analysis of fMRI time courses collected during naturalistic listening. Lexical surprisal calculated from ngram and LSTM language models is used to capture effects of local context; to capture the effects of broader context a new metric based on topic models, topical surprisal, is introduced. We identify distinct patterns of neural activation for lexical surprisal and topical surprisal. These differing neuro-anatomical correlates suggest that local and broad contextual cues during sentence processing recruit different brain regions and that those regions of the language network functionally contribute to processing different dimensions of contextual information during comprehension. More generally, our approach adds to a growing literature using methods from computational linguistics to operationalize and test hypotheses about neuro-cognitive mechanisms in sentence processing.
Read More about Using surprisal and fMRI to map the neural bases of broad and local contextual prediction during natural language comprehension
The mental representation of universal quantifers
On the psychological representations that give the meanings of "every" and "each".
Linguistics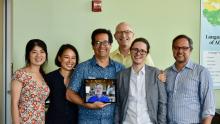 A sentence like every circle is blue might be understood in terms of individuals and their properties (e.g., for each thing that is a circle, it is blue) or in terms of a relation between groups (e.g., the blue things include the circles). Relatedly, theorists can specify the contents of universally quantified sentences in first-order or second-order terms. We offer new evidence that this logical first-order vs. second-order distinction corresponds to a psychologically robust individual vs. group distinction that has behavioral repercussions. Participants were shown displays of dots and asked to evaluate sentences with each, every, or all combined with a predicate (e.g., big dot). We find that participants are better at estimating how many things the predicate applied to after evaluating sentences in which universal quantification is indicated with every or all, as opposed to each. We argue that every and all are understood in second-order terms that encourage group representation, while each is understood in first-order terms that encourage individual representation. Since the sentences that participants evaluate are truth-conditionally equivalent, our results also bear on questions concerning how meanings are related to truth-conditions.
Read More about The mental representation of universal quantifers
Linguistic meanings as cognitive instructions
"More" and "most" do not encode the same sorts of comparison.
Linguistics
Natural languages like English connect pronunciations with meanings. Linguistic pronunciations can be described in ways that relate them to our motor system (e.g., to the movement of our lips and tongue). But how do linguistic meanings relate to our nonlinguistic cognitive systems? As a case study, we defend an explicit proposal about the meaning of most by comparing it to the closely related more: whereas more expresses a comparison between two independent subsets, most expresses a subset–superset comparison. Six experiments with adults and children demonstrate that these subtle differences between their meanings influence how participants organize and interrogate their visual world. In otherwise identical situations, changing the word from most to more affects preferences for picture–sentence matching (experiments 1–2), scene creation (experiments 3–4), memory for visual features (experiment 5), and accuracy on speeded truth judgments (experiment 6). These effects support the idea that the meanings of more and most are mental representations that provide detailed instructions to conceptual systems.
Read More about Linguistic meanings as cognitive instructions